Honours & Awards | Bradford McIntyre
PRIDE Legacy Award
, on July 20, 2013. Maxine Davis, Executive Director of the presented Bradford McIntyre with the PRIDE Legacy Award
in the PINK Category: Sexuality - Sexual Health + HIV/AIDS Awareness.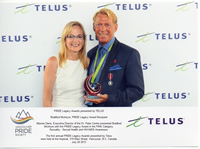 Bradford McIntyre dedicated his PRIDE Legacy Award to all the people affected by and infected with HIV and AIDS and all those who we've lost to AIDS.
---------------
Queen Elizabeth II Diamond Jubilee Medal

for excellence in the field of HIV/AIDS in Canada, on November 27, 2012.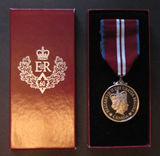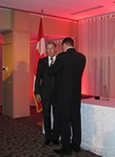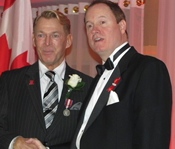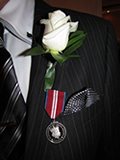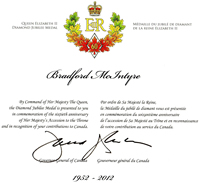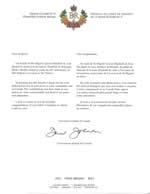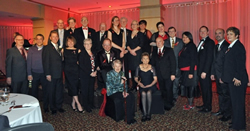 for excellence in the field of HIV/AIDS in Canada,
at on Tuesday, November 27.
(back row left to right): Richard Elliott, Dr. Jacqueline Gahagan, Bob Leahy, Louis-Marie Gagnon, Karen Plater, David Hoe, Darien Taylor, Monique Doolittle-Romas, Maria Mac Intosh, Dr. Brian Conway (middle row left to right): Dr. Ted Myers, Randy Jackson, Bradford McIntyre, Denise Becker, Deborah Warren, Brian Huskins, Albert McNutt, Doris Peltier, Dr. Colin Carrie (medal presenter on behalf of the Government of Canada), Enrico Mandarino, Colleen Elizabeth Price
(front row seated left to right/): May McQueen, Mary Elizabeth Paul
Photo by Cynthia Münster for the Canadian AIDS Scoiety
---------------
AccolAIDS Nominee

, nominated for an AccolAIDS Award and received a Certificate of Nomination, in recognition of his achievement in the areas of Social/Political/Community Action, the Kevin Brown PWA Hero and Panel's Merit Award for his tireless work.
The honour the extraordinary achievements and dedication of organizations, businesses, groups and individuals responding to the HIV/AIDS epidemic in British Columbia, and the thousands of people living in BC who are affected.
Bradford McIntyre, AccolAIDS Nominee in the following years:

AccolAIDS 2016 Nominee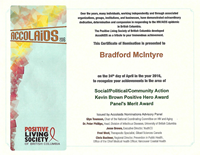 AccolAIDS 2014 Nominee
(Certificate not available)
AccolAIDS 2012 Nominee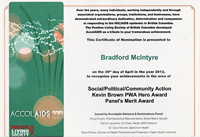 AccolAIDS 2010 Nominee
(Certificate not available)
AccolAIDS 2009 Nominee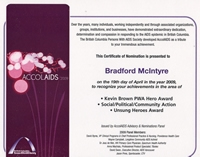 AccolAIDS 2008 Nominee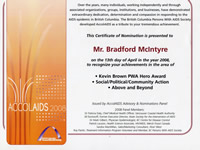 AccolAIDS 2007 Nominee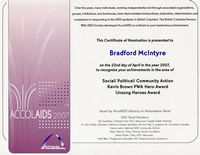 AccolAIDS 2006 Nominee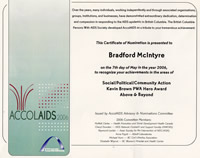 AccolAIDS 2005 Nominee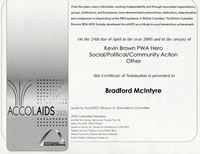 AccolAIDS 2004 Nominee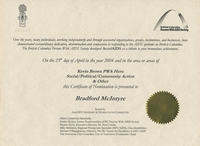 AccolAIDS 2003 Nominee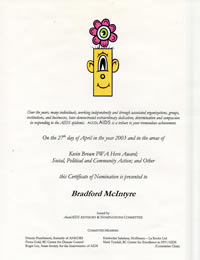 AccolAIDS 2002 Nominee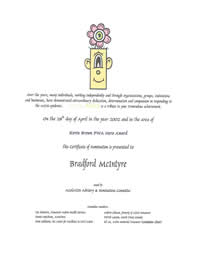 ---------------
Most Eye Opening Contributor AWARD

Bradford McIntyre, (Mexico) correspondent in Canada, received the
Most Eye Opening Contributor AWARD on June 28, 2004 from Enkidu Magazine - Web Edition - Eye Opening International News (Mexico).
A reader Poll took place in February 2004 and readers voted
"" by Bradford McIntyre,
the "Most Eye Opening" article.
Article in Spanish:

Mexico City, Mexico